Side Effects Software Announces Houdini 8.1 Public Beta
New Version Features Auto Rig and Interactive Muscle System.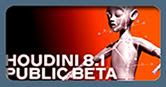 Toronto: May 18, 2006 Side Effects Software, developer of the award-winning Houdini family of 3D software, is pleased to announce the public beta of Houdini 8.1.This new version features an artist-friendly Auto Rig, Muscle System, Character Picker, and Pose Library, as well as enhancements to the Rigid Body and Wire dynamic solvers. With the recent release of Disney's The Wild, the CG community has seen C.O.R.E. Feature Animation's successful implementation of Houdini for character animation. Reviews of this film have consistently commented on the incredible animation and stunning realism. Michael Wilmington's review in the Los Angeles Times calls The Wild a "visual virtuosity" and applauds the "truly spectacular animation."
Houdini 8.1 makes its character tools more accessible than ever. A new Biped Auto Rig tool lets you quickly position your character's joints and generate production-ready rigs at the touch of a button. It creates both an animation rig with built-in proxy geometry for blocking and a separate capture rig for deforming geometry. These rigs are created as Houdini Digital Assets and form the backbone of a robust character pipeline. Technical directors can customize the animation team's rig to conform to their preferred way of working, giving studios a flexible, open approach.
The Auto Rig tool has already been tested in production and was built based on customer feedback. "We've put this rig through a full character job and it rocks," says Louis Dunlevy, Technical Director, Realise Studio in London. "It's very portable and certainly easier to manage and integrate into the pipeline than any Maya rig I've come across."
For animators, the speed and interactivity of character rigs have been optimized in Houdini 8.1. This release also features a Character Picker that makes it easy to import an image of the character and set up pick points. There is also a Pose and Clip Library for easily building off of existing motion when animating a shot. Both these tools are integrated into Houdini's built-in browser for easy access.
For capturing and binding geometry, Houdini 8.1 includes a revolutionary approach that is ideal for setting up fully functional muscle systems. Using a new muscle tool, riggers can quickly build up a system of metaball-based muscles. Once this system is in place, the metaballs, instead of bones, can be used to capture the geometry.
This new Metaball Capture technique provides localized point weighting that requires less adjustment after the initial capture. When the surface is deformed, the metaballs push out the surface to preserve volume and you can even set up collision tests at all the joints to avoid geometry interpenetration. Once the surface is set up, you can then paint in areas of sliding to get realistic motion in the skin. The resulting muscle and skin system can be worked with interactively and does not require simulation.
Houdini's dynamics architecture has also been updated in 8.1 with improvements to both the Rigid Body and Wire solvers. The Rigid Body solver now supports thin plates, auto freezing and advanced visualization options for previewing a simulation's dynamic properties. The Wire solver has been optimized and simulates up to 10 times faster than before. There are also new wire creation and editing tools to help streamline workflow.
"Houdini 8.1 is a significant upgrade for our community" say Judith Crow, Senior Production Consultant, Side Effects Software. "By including these production-quality character tools, like the Auto Rig tool, more people can discover Houdini's capabilities in this key area of the production pipeline." To access the Houdini 8.1 public beta, visit www.sidefx.com and click on the Apprentice Download button.
About Houdini
The Houdini family of animation software offers digital artists an unprecedented level of power, flexibility and control based on award-winning technology. The comprehensive feature set includes modeling, rigging, animation, particle effects, dynamics, compositing, integrated rendering, and more. All Houdini applications work together seamlessly and are available for the Windows and Linux operating systems. Houdini has been used to create stunning digital animation in blockbuster films, including The Day After Tomorrow, Spider-Man (1 & 2), The Polar Express, I,Robot, Chronicles of Riddick, XMen, X2: X-Men United, the Harry Potter series, The Lord of the Rings trilogy, The Matrix trilogy, and most recently Sin City, Stealth, Charlie and the Chocolate Factory, Valiant and The Wild.
About Side Effects Software
Established in 1987, Side Effects Software is a world leader in the development of advanced 3D animation and special effects software for use in film. Side Effects Software leads the field of procedural animation with its unique, award-winning, Houdini technology. Houdini is used by numerous digital content creation leaders including C.O.R.E., Digital Domain, Disney Feature Animation, DNA Productions, Framestore-CFC, The Orphanage, Rhythm and Hues, and Sony Pictures Imageworks among others.
--------------------||-